The above Dubliners video was made in 1965 and for the most part was filmed in O'Donoghue's pub Merrion Row Dublin where the group started out. It features Ronnie Drew, John Sheehan, Barney McKenna, Ciaran Bourke and Bobby Lynch.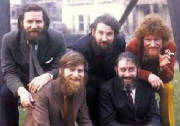 Ronnie and the boys were young lads playing for free drinks at O'Donoghu's pub where Peggy Jordon found them. Peggy got them to work and didn't pay them with pints of porter. She was the very first impresario in Ireland to pay traditional musicians, people thought this was a dirty thing, turning the traditional music into a business.
Peggy Jordon started the whole music scene at the Abbey Tavern in Howth Co.Dublin and later established the Embankment in Tallagh as a venue, followed by her tremendously popular midnight music gig at the Grafton Cinema Dublin.
Ronnie Drew's New Biography
A lot of people involved in traditional music at that point in history thought that certain instruments could be played, you had to look dowdy. I think we , in that we represented the music as being a bit of craic, as well as just playing. I picked up songs in Kerry, and I heard the same songs from lads in Donegal, we just picked up a bit here and there, whatever suited us. I was as Irish as any one living on the Aran Islands But there was no point me imitating a Galway Sean Nos singer.
Hot Press 1986