I received an email from a regular visitor to the site inquiring about how to set up a folk music club in his home town in Co. Mayo. He goes on to say - I would love to ask your advice about Folk clubs, do you think it`s a good idea to try and form one here in Mayo? How do you think I would go about it? and have you any involvement with any? That`s a few questions I know. My problem is I don`t have anybody to play music with, people like myself who have a deep appreciation of the Irish ballad. There is absolutely no folk scene in Castlebar or the surrounding areas but I am sure there must be other people like me who are just sitting at home playing there guitar in private. No more than your site I would love to keep the ballad alive. I have seen one or two on "you tube" like the Fingal folk club there in north Dublin, it seems like great fun. I don't know how it works, whether its all just a bunch of people meeting and playing there songs for fun or what? I really don`t have a clue so any advice you can give me would be very much appreciated,
The above youtube video is a good example of how a folk music club is put together. This one takes place in Ballyboughal North Co. Dublin and was set up a few years ago by Ronnie Delany from ''Morning Dew Ballad Group'' . Ronnie has a passion for folk music and like myself he wanted to play his part in keeping the tradition alive.
So how do you start such a club in your own town ? There are several ways to go about it. Advertise for like minded singers and musicians in your local shop. Most supermarkets have a notice board so members of the public can tell others what's happening in the area.
Have a look around facebook or Google Plus for musicians in your area. You can also let me know and I'll post all the details here on the site. So if your looking to set up or take part in in a folk music club let me know. The Fingal Folk Club takes place in a Parish Hall and they have a small charge of a couple of euro entrance fee which pays for the electric and tea, coffee and sandwiches. It's open to everybody to take part, even if you don't play an instrument and just want to sing, tell a story or recite a poem. You can let the other musicians know before you start your party piece if you'd like them to join in and back you up with your performance or let you alone to play your songs yourself. I have played this folk club myself and there's a great buzz about the place, especially when the other musicians join in playing your song. There's no greater feeling in the world to have like minded singers and musicians backing you up on your songs.
Most towns and villages in Ireland have some sort of parish hall, but you could just as easy set a folk club up in your own house and swap around from week to week in different houses. With the recession there's thousands of lads and lassies sitting at home scratching themselves with nothing to do all day every day. Some haven't even the price of a pint or the price of a packet of smokes on a Monday morning. I know this because most of my friends worked at the building game and are on the dole. So why not do something about it a start up your own folk music club. Only recently somebody left a comment in the guestbook on this site saying since he lost his job he's taking up guitar for the first time and has learned 3 songs already. So if your thinking of setting up a little session somewhere then give me a shout and I'll others know here on the site. There are already plenty of traditional sessions scattered around Ireland and there are a rake of other websites that list them, but what's missing is an outlay for folk and ballad session and that's what I'm aiming to create here.
Are there any folk / ballad musicians in the Mayo area looking start a club or just get together with other musicians for a jam ?. Let me know and I'll forward your details on and post the information here.
unitedireland@gmail.com
garry walsh
Email Address: walsh_garry@yahoo.co.uk
Im looking to set up a folk club of my own in dunmore east/ waterford city area. As a 27 yr old im hoping to make music a career. If anybody is interested i would be grateful of any help. Well done. Regards. Garry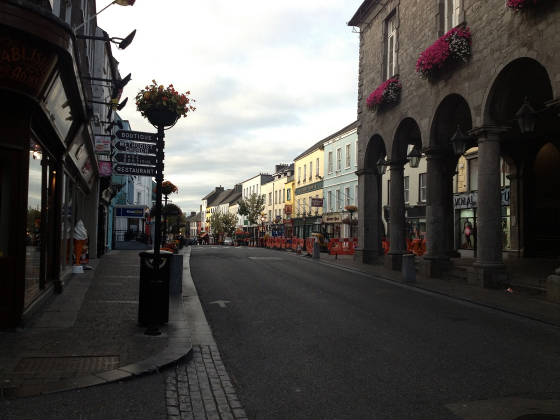 Ballad Session In Ireland - High Street Kilkenny
Kilkenny Pub Sessions
I recently paid a visit to Kilkenny for a few days to check out what's happening regarding ballads and traditional music being played in the pubs. I suppose you could call it a ''Pub Spy'' on trad. and ballad singers. I have been to Kilkenny many times over the years but general stayed in close to what ever hotel I was staying in. This time I went on a blitz of several pubs over a few nights.
I didn't stay in and one pub for more than 20 minutes. This is plenty of time to take in the flavour of any session. You sort of get the gist of what the musicians are capable of and the type of music they play, be it general folk / ballads or traditional.
I won't name pubs because there may well be a different group of musicians playing there now. We all know the session heads move around from pub to pub a lot over a season. I took inn most of the pubs on High Street and Parliament Street. There was a good mix of traditional and ballads being played along these streets. Some of the pubs even placed speakers outside their doors to entice the punters inside the door. There's a lot of foot traffic along these 2 streets and publicans use all methods at their disposable to fill their pubs with drinkers and tourists.
Some of the groups of musicians played strictly traditional music without playing even one ballad. Some played a mixture. Most used amplification which generally consisted of 2 speakers with a mic. thrown over a hook in the ceiling and left dangling down to pick up each instrument being played. The standard of music being preformed was very good. You can easy tell when a group of musicians have being playing a long time together, you'll hear it in their playing. One will generally start a tune and play a few lines followed by another then the whole group comes in. Each will know when to pause and let the lead musician take over.
What I didn't fine in Kilkenny was a single female musician. I'm not saying there are none but the time I was there, there was not a single woman within any group.
Some people think every traditional music session is the same, well let me say that each one is completely different with different musical instruments being played at each session. One might have a button accordion, a uilleann piper, guitar and bodhran player. Any of these fellas might also do the vocals. One of the sessions I attended the bodhran player was doing lead singer. Now that's something you don't normally see.
From all the towns in Ireland that I have ever been I have never seen so much traditional music being played in so many pubs within such a small area. Within 200 meters there were 6 sessions taking place in one night alone. If your planning a trip to Kilkenny then you won't be disappointed if it's traditional music your looking to hear.
By the way all the session I attended were closed, meaning you just can't show up with your guitar and join in.
Kytelers Inn Kieran Street. A Review.
I'd say this pub is the most popular in the whole city. Year after year when I visit Kilkenny I always have a drink in Kytelers to check out the music. Different nights play hosts to different bands. It's one of the pubs you'll always get a large amount of tourists. A few years ago I asked the barman's views on the amount of tourists that come into the pub and don't even buy a drink but are only there to listen to the music. His view was that they take up valuable space that real drinkers could be using. He said, and I seen it for myself, that there were tables of for to six, all tourists who came into the pub, sat at the table and perhaps one may buy a drink while the other 4 just sat there and bought nothing. On the night I was there about half the punters were were tourists and very few of them bought a drink. The pub was full with people coming in every few seconds only to turn on their heels and walk out because there was simply no room in the pub.
The pub is laid out as a ''Traditional Irish Pub'' meaning there's a lot of wood, photos on the wall saying ''The Old Bog Road'' , you know the kind of stuff I mean.
Inside the door to the left in an alcove is where the band preforms. The night I came in there was a 5 string banjo player who also done the lead singing, a guitar and accordion player. All of which were excellent musicians. I'd say they are the kind of ballad group that could play any song you could name, but on my visit they played the ''Tourist Type Songs'' , the likes of Dirty Old Town and The Fields Of Athenry. All are great songs i their own way and have become standards for most ballad groups, but you can fed up listening to the same auld stuff being pumped out in every pub you visit. Kytelers was the third pub I visited where the group hung the micropone from the rafters and was left dangling in mid-air in the centre of and just above the musicians heads. It's a great idea to use such a microphone as this system takes up little space and you don't need three mics. placed in front of the band.
This sessin lasted for 2 hours with a break of 15 mins.
The Metropole Pub And Hostel Review
This place used to be a hotel up until 2 years ago. It now caters for backpackers or anybody just looking for a bed for the night without paying expensive hotel bills. The cost of the room per person is €19 per night. This is great value for money as you get a double bed and shower. There's no t.v. or the other little extras you'd expect to find in a hotel. But if all your looking for is a roof over your head and a quick shower then the Metropole is the place to stay. They serve the best of grub for €10 per dinner. Pints of beer are priced at €4.10 which is great value compared to hotel prices.

The bar is a tradition bar, it's to the left as you walk in. On the right just inside the bar is where the band preforms. The night I visited there was a 4 piece outfit who played mostly traditional music. The bodhran player was the main vocalist. He had a lovely sweet voice and sang some lovely songs, most of which were local songs from the Kilkenny area. The guitar player was of the highest quality and could have got the start with any band in the world. He was the finest traditional players I have ever seen or heard. The box player was equally proficient and kept a nice rhythm to hold the whole session together along with the Uilleann piper. Uilleann pipers are few and far between at sessions around Ireland. But it's a real treat when you come across one. As most of you will already know all Uilleann pipers also play tin whistle simple because the fingering is the same on both instruments. Anyway this group at The Metropole played for almost 2 hours with no break. Two of the band members drank water and 2 drank pints of beer. There was no hanging around when the gig finished. Within 5 mins. after playing their last tune they packed up and left.
It was a Tuesday night when I visited and I hear they play the same venue every Tuesday. I highly recommend you check out the Metropole if your visiting Kilkenny.
Tips For A Great Session
Now here's a few suggestions to enhance this particular session and many like it.
Unless one is seated right beside the musicians they can't be seen. I would suggest the lads get some high stools to play on. I know some musicians don't feel comfortable and even inhibited while an audience looks on. This is just nerves and will soon abate over time. In place of the high stools I'd suggest the publican puts in a raised area like a little stage.
I would also like to make the point that 2 of the 4 musicians had their backs to the audience, this is fine when playing to locals who are well used to hearing and seeing the tunes been played but while playing to an international audience [ The Tourists ] it's a bad practice and doesn't look well. Another point to make and this applies to not only the Metropole session but many other pubs I have attended traditional music and ballads sessions is the fact that the area where the music is played is too dark.
I'm not suggesting spotlights be shone on each player but the area they play should be more lit up than the rest of the venue. Ok so we now have the lads on a raised area, the are now facing the audience, what else would enhance and make the session more enjoyable ? . People love to hear little stories behind the songs and tunes. Each tune or song should be given an introduction by a band member, just a few words would suffice. Perhaps where the singer first heard the tune being played or who wrote it.
A little banter with the audience goes a long way. Another point to make is if your only playing for 2 hours there's no need to be chatting to your fellow musicians after every song, leave the chit chat to after the gig is played. The punters don't like looking at a group of lads who talk among themselves after every song. After each song is over, thank the audience for clapping and introduce the next song.