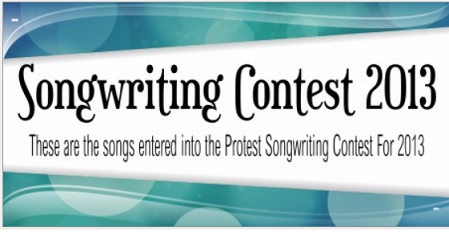 This site has decided to host a Protest Songwriting Contest. The idea came from Peter who is a regular visitor to the site and has a keen interest in the subject. The main reason for the contest is to keep the art of protest songwriting alive. It seems to have diminished in recent years, at least where radio airplay is concerned.
So what is a protest song ? well there are literally hundreds of them on this site going back donkey's year which deal with many subjects. It could be a song about the banking crisis which brought Ireland and many other countries to it's knees, or a song about present day emigration. There are many topics to choose from. Think of all the radio and television phone in programmes where the audience phone's in to complain about what's making them angry.
This is your opportunity to ''Get It Off Your Chest'' , an outlet for emotions. If you have never written a song before, have a look around this site and see how songs are constructed. They usually have three or four verses and a chorus. A verse usually has four to six lines and the chorus will have four lines. Try and make the chorus catchy, and make the verses rhyme if possible.
Here's A Few Rules To Follow.
The song must be written in the folk style. ie. not pop/rock.
The song must be original. Don't use somebody elses lyrics , but you can use an old traditional tune as the air.
All countries are welcome to participate.
It does not have to be an Irish song.
You don't have to sing it yourself. Some people are great at writing songs but not at the singing part, so you can get somebody else to sing it for you.
Individuales and bands can take part.
Songs that have previously been sent to this site can also take part.
You can only submit one song.
Don't use anybody's name, or a company name. An example not to use would be a bankers name.
Who were be the judges ?.
I got three singer / songwriters from the world of folk music to be judges, they are well known and many of their songs are on this site. They wanted to remain anonymous. Marks out of 20 were awarded for, songwriting / subject matter / performance of song.
How To Get Your Songs Included.
When you have written and recorded your song send it to me at
unitedireland@gmail.com
Send the lyrics and if you have placed your song on youtube send the link. Youtube is the easy way to get your song hosted. All you need is a webcam, sing and play your instrument and then place it on youtube. I can then host it on this site from youtube. Or if you want you can send me an mp3 version and I will place it on youtube for you.
May the 20th is the deadline for entries.
And questions you may have then send me an email at the address above.
The results of the contest are. 1st place Prosperous day by Carl Cameron., Second place Whiskey by Matt Fitzgibbons, and third place goes to Lament For Luke by Gary O'Connor. Thanks to everybody that took part in the contest. Every song to my ears was a winner and I know you put your heart and soul into your song.
''"The world is filled with people who are no longer needed. And who try to make slaves of all of us. And they have their music and we have ours. Theirs, the wasted songs of a superstitious nightmare. And without their music and ideological miscarriages to compare our songs of freedom to, we'd not have any opposite to compare music with --- and like the drifting wind, hitting against no obstacle, we'd never know its speed, its power...."
― ― Woody Guthrie
 
 
 

Written by Mick Higgins. A recent song about emigration from ireland.

This song is about Afghanistan

By John Young

Song No. 3

The Ballad Of The Downtrodden

By Micka O'Brien. It is about Ireland's working class being brought to our knees by greedy politicians and bankers.

Song 4

Ireland`s Choice

By Padraig Grimes about democrary and how all the polictal parties are the same. Nothing changes with a new government.

Song 5

Doing Grand

By Ger Loughlin. A song about the banking crash in Ireland by Ger Loughlin.

Song 6

Connolly Would Cry

A song depicting how James Connolly would feel about Ireland today.

A song about why some Americans are obsessed with guns and killing innocent people

Song 8

Prosperous day

this is a song about how the world revolves around the all mighty dollar. Written by Carl Cameron.

Winner Of Contest

Song 9

Home Of The Free

dedicated to Irish people fighting for their homes against the laws of Austerity. Written by Emer Fox.

Song 10

Lament For Luke

by Gary O Connor. This is a song about inequality and corruption in Ireland during the

Celtic Tiger.

3rd place in contest

Song 12

Whiskey

by Matt Fitzgibbons

2nd place in contest

Song 13

Dying In Kilkenny

A song of emigrating from Kilkenny Ireland to Newfoundland Canada

Song 14

Death Row

by Brian Peters. this form of punishment was used to deter political opposition in South Africa.

Song 16

Shades of Dream

By The No Hopers. A song written in opposition to abortion.

 
First prize €250

Second prize €150

Third prize €100

If anybody wants to sponsor this contest let me know.

So far the prize money is been donated by myself and Peter.

 
A Message From Peter Who Gave Me The Inspiration To Hold This Contest.
Essentially, as I see it, the music industry, as most other industries has been taken over and churns out mostly apolitical, soporific, commercial matter. Here in North America, I can not think of one song that has addressed the Massive Financial Crime Wave. As regards the inner workings of the music industry, you might be interested in Me, the Mob, and the Music: One Helluva Ride with Tommy James and the Shondells. I listened to this in audio form (free from the local library) while doing my morning exercise. A real breaking of the Omerta code and a revelation as to how the music industry really works. (Many of the same features as the Banking Industry. Banking Whistleblowers in the US have been sent to jail. Yes, the Whistleblowers not the Perpetrators.)

Personally, I don't think we have the best music. What we have is the best music money can buy, promote and market. Get a few millions behind a song or group and that is best. This at the expense of those who have skill, talent, ideas but no $$$$ and no connections. The other cost is that music is Global, it must be to reach the whole market. Therefore we have no local, regional, and, even now, national music. Music must be made to fit the marketing mold. And, of course, Protest rarely fits the marketing mold. It is not usually a selling point.

One of the reasons I contacted you was that on your site you wondered Why Don't Irish Radio Stations Play Our Songs ? I had previously read Brian Warfield's "Why the Tones must go on and why we must support them." The sentiments expressed in both writings resonate with me. I have been involved in environmental protest here and have observed and experienced media manipulation, blacklisting and obfuscation. One of the best quotes in this regard I ever heard was by a local reporter: "The best stories are NEVER in the newspaper." How very true. The censorship starts locally, goes vertical and then Global. Until one has experienced this phenomenon oneself, one does not understand it or even believe it exists.