The Largest Building In Ireland Including Northern Ireland.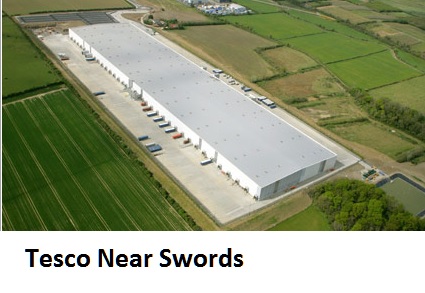 The largest building in Ireland is the Tesco Distribution Centre located 3 km North of Swords Co. Dublin at Lanestown in the Parish and townland of Donabate. When I say largest I don't mean tallest building I mean a building with the biggest square metre area that is totally enclosed and has a roof. The total area is 80,194 m² (863,201 sq ft) and the building is close to one kilometre long.
It was built in the year 2007 to distribute all of the Tesco groceries and electrical goods to it's stores around Ireland. There are over 100 loading bays to look after the constant stream of Eddie Stobart lorries who have the contract to distribute the Tesco goods around Ireland. The building is almost 1km long and it takes 10 minutes to walk the length from top to bottom.
This building is not only the biggest in Ireland but the 8th biggest in the world.
As a matter of interest, the tallest structure in Ireland are the 2 chimney's located at the Poolbeg Generation Station Number 1 chimney is 207.48m (680 ft 9in) high. Number 2 chimney is 207.8m (681 ft 9in)