Applegreen filling stations are to open a new petrol station on North Street Swords.
The Site Notice-
We, Pentrogas Group Ltd.
intend to apply for
Permission
for development at the site address,
Des Darcy Motors Ltd, North Street Swords Co Dublin.
The development will consist of ;

1. Demolition of existing car showroom [710m2] and ancillary site features including petrol pumps;

2 Construction of new single story shop building [422m2]
comprising of retail area with off licence use,
cafe area, kitchen, restaurant area with ancillary drive
thru facility, seating area, play area, storage and ancillary.
3 Construction of new forecourt area with 6no pump islands and canopy over.

4 Installation of 3 No. 40,000L underground fuel storage
tanks, associtated pipework and overground fill points.

5 Installation of 1 No. jet wash facility, 1 No brush wash
facility, and a single story car was recycle building.

6 Installation of 1 No main id. sign.
7 Construction of all ancillary site works including screened bin compound, signage, boundary treatments, landscaping and car parking.
The planning application may be inspected or purchased at a fee not exceeding the reasonable cost of making a copy at the office of the planning authority during the public opening hours of 9-30 - 16-30 Monday - Friday at Fingal County Council, County Hall Main Street Swords.
A submission or observation in relation to the application may be made in writing to the planning authority on payment of a fee of €20, withing the period of 5 weeks, beginning on the date of receipt by Fingal County
Council of the application, and such submissions or observations will be considered by the planning authority in making a decision on the application. The planning authority may grant permission subject to or
without conditions, or may refuse to grant permission.
Signed;
For J.A. Gorman, Consulting Engineers Ltd. [agent]
Unit 1 Block B, Forest Park, Mullingar, Co. Westmeath.

Update 2014. Work has now started on the refurbishment of the existing building which belonged to Des D'Arcy. Work started on Monday the 30th of June. No final date of completion has being mentioned but these jobs usually take about 6 months to complete.

Local people living in the housing estates around North Street have been without a grocery shop since Audrey's Shop closed down at the start of the year. So the opening of the new Applegreen service station along with a grocery shop will be a welcome boast to this end of the town. It's business as usual for Des Darcy who has moved to the right of his former showrooms.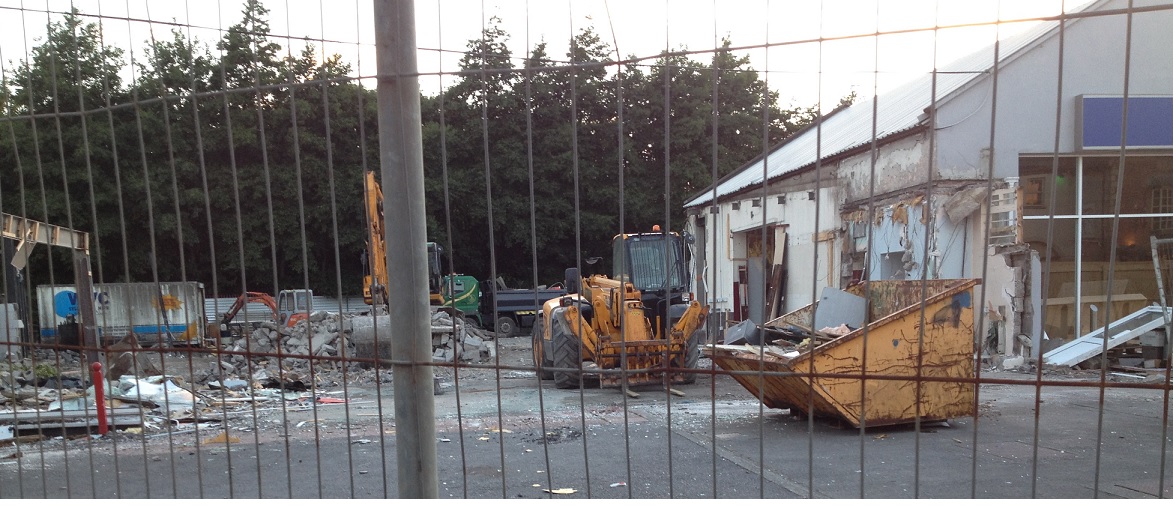 This applegreen filling station / café will be opened in mid. October 2014. In total there will be 250 jobs in the construction of the garage. When it's open there will be 30 full time jobs.