The village of Applewood Swords was built in 2002 by Gannon Brothers developers. The village consists of a main street with several housing estates surrounding it. Shops on the street include, Eurospar, a butchers, pub, video shop, a medical center, hardware shop, chipper/pizza takeaway, coffee shops, the Orchard Pub, Jackie Skelly's Gym and a bookmakers. Doggy Dogs which offers dog grooming service, Adams Apple Cafe, Marigold Chinese Take Away. The housing estates in the area are-
Glen Ellen
Bumbury Gate
Sandford Wood
Castleview
Southbank
Jugback
Thornleigh
Ashton Broc
Brides Glen
Laurelton
Buses that serve Applewood are the 41 and the urbus Dublin Bus
Coolers Off Licence phone number 8409939 delivery service available
Applewood Gallery
Retail Unit 73 Main st Applewood Village Swords Co. Dublin
Tel: (01)8131365
Adams Apple Cafe
ph. 01 8075272
Applewood DIY & Hardware
Unit 71 Applewood Vlge Swords Co. Dublin
Tel: (01)8107548
Dora's Takeaway Chipper And Pitzza
Phone No. 01-8107990
Eurospar
U7 Main st Applewood Swords Co. Dublin
Tel: (01)807475
Eurospar
Opening Hours:
Mon 6am - 10pm
Tue 6am - 10pm
Wed 6am - 10pm
Thu 6am - 10pm
Fri 6am - 10pm
Sat 7am - 10pm
Sun 8am - 10pm
Food Guru Take Away [Delivery Service]
North Street Buisness Park Swords
phone number 01 8138667

Map of Applewood Swords including housing estates
Applewood GPS Coordinates
Latitude 53.4702159
Longitude -6.23345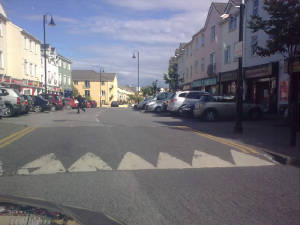 The Manager of Fingal County Council was asked on the 14th of November with regard to Thornleigh, Swords:
(a) what parts have been taken in charge;
(b) what parts are due to be taken in charge and
(c) to investigate the paths around the area, particularly the one around
Thornleigh Educate Together, that are proving difficult for wheelchair
users?"

Reply:
In relation to the above query the Inspectorate Division would like to respond
as follows:

(a) No part of this development has been taken in charge.

(b) The developers of this estate have gone into liquidation. The
Inspectorate Division have notified the bond holders of their intention
to sequester the bond securities in order to bring the development up
to a taking in charge standard. The bond holders have not to date
responded to these requests.

(c) As part of the taking in charge process all road crossings would be
required to be dished in order to provide for universal access. This
issue will be investigated and can be addressed at this juncture.