Old School House Pub And Restaurant
Phone Number (0)1 840-2846
The Old School House pub and restaurant is located on The Well Road Swords.This building was originally a Protestant Boarding School for boys in the nineteenth century. There now stands a brand new building with the original front of the old school house incorporated into the new building.
The old school house was transformed into a pub by Dessie Lawlor in the 2000s and is now one of the finest pubs in Swords. It's also one of the best places to eat in the town. There's a friendly atmosphere from the mostly regular clientele. Thursday nights is traditional Irish night with the group ''Room For One More'' and more live music on Friday nights with Celtic Fusion playing a good mixture of Irish folk and American pop songs.
The newly renovated Old School House hold a "Cheap Ass Tuesdays Night" with €4.00 pints and cheap bottles alongside live entertainment. There's very little car parking spaces in the car park, about 8 spaces in total. There's plenty of spaces at The Lord Mayors pub just up the road, although you may have to pay a small fee during day time.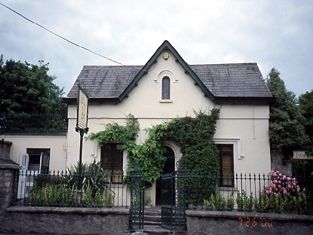 The Old School House Swords
Detached three-bay single-storey Tudor style former school house with dormer attic, c.1835, on a T-shaped plan with gabled central bay. Design attributed to architect Frederick Darley.Three-bay single-storey rubble stone return to rear. Renovated and extended to left, c.1980, comprising single-bay single-storey flat-roofed end bay to accommodate use as restaurant. ROOF: Double pitched and gable-fronted; slate; concrete ridge tiles; roughcast chimney stack to return; red clay pots; timber eaves with timber corbels; cast-iron rainwater goods; flat-roof to end bay. WALLS: Nap rendered to front elevation; painted; random coursed rubble stone to side elevations and returns. OPENINGS: Square headed window openings; granite sills; hood mouldings to front elevation; yellow brick surrounds to returns; replacement timber casement windows; round-headed window openings to attic; granite sill; hood moulding; timber fixed-pane stained glass window; round-headed door opening; moulded archivolt; replacement tongue-and-groove timber panelled door; stained glass overlilght.