alternative Chords = D=G, G=C And A =D
By[D] a lonely prison wall,I[G] heard a young man[D] call[A]ing,
[D]Michael they are[G] taken you a[A]way,
For you[D] stole trevelyne[G] corn,so the[D] young might see the[A] morn,
Now a prison ship lies waiting in the[D] bay.
[Chorus]
[D]Low[G] lie the[D] fields of athenry,where once we watched the small free birds[A] fly,
Our[D] love was on the[G] wing,we had[D] dreams and songs to[A] sing,
It's so lonely round the fields of Athen[D]ry.
[2]
By a lonely prison wall,I heard a young man calling,
Nothing matters Mary when your free,
Against the famine and the crown,I rebelled they put me down,
Now you must rase our child with dignity.
[3]
By a lonely harbour wall,she watched the last star falling,
As the prison ship sailed out against the sky,
For she waits and hopes and prayes,for her love in Botany bay,
It's so lonely round the fields of Athenry
I guess the most famous version of this is by the
great Paddy Reilly. Paddy sang it in the key of
E major using the chords here.
Intro, B7 ---E-A-E
By a [E]lonely prison wall
I [A]heard a young girl [E]call[B7]in'
Mi[E]chael they have [A]taken you a[B7]way
For you [E]stole Trevelyn's [A]corn
So the [E]young might see the [B7]morn
Now a prison ship lies waiting in the [E]bay ,,A,,E
[E]Low [A]lie the [E]Fields of Athen[C#m]ry
Where [E]once we watched the [C#m]small free birds [B7]fly
Our [E]love was on the [A]wing
We had [E]dreams and songs to [B7]sing
It's so lonely round the Fields of Athen[E]ry,,A,, E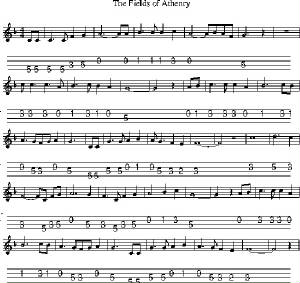 The Irish soccer / football team supporters also use the song as a ''chant'' when the national team are playing. Unfortunately they only seem to know the first verse and chorus. They also change some of the words and the timing. Also used by the rugby supporters to give the team a bit of a lift.
How To Play The Fields Of Anthery On Guitar.
These are the basic chords and the strumming pattern to play the song in te key of D Major.
Interview By Joe Duffy With Pete St John The Writer Of The Fields Of Athenry
Joe Duffy - When did you write the fields of Athenry ?.
Pete St John - That was back in 79' I belive, I though
I had just written another lovely ballad and Danny Doyle
picked up on it one night in the old Embankment and I
said ''Off Ye Go Danny'' , Danny can be very fussy
as all the lads here know and it took him a while to
get his head around the story, we went to America with
it and established it there. Then one day I had Paddy
Reilly coming out to do some gigs with us in The States.
So I had Paddy Reilly, Danny Doyle and a group called
Celtic Folk and while we were there doing the gig Paddy
said when I go home, well he was thinking at the time
of packing in the business and opening a pub with
Mick McCarthy from Embankment fame and Paddy said I'm
going to sing The Fields Of Athenry as my final song.
'Reilly did and how many years ago is that.

Joe Duffy - And Paddy Reilly was in the charts for
something like 72 weeks.
Pete St John - I called the record company to say
we should take it out as a single because I couldn't
compeat with myself. So we were to stick it on an album
and maybe write another one. So thanks be to God it
took of and we have it today as a kind of peranual.

Joe Duffy - How did it become this anthem in Scotland
and the anthem for the Munster Final [rugby]
Pete St. John - Well we were one night in a gig in London
with Patsy Watchorn and The Dublin City Ramblers
and Packie Bonner [Ireland And Celtic Goalkeeper'
stood up and sang the song, so we backed him for it then
he took it up to Celtic and Celtic invited me up
and I was invited over to Park Head [Celtic Football Ground]
to sing it acapella out in the middle of the pitch.
So I went out and invited the 60,000 audience to sing
it with me. So I thanked them for looking after the
15,000 that we sent them in the famine times cause
they all had fever. Then I said I'd like to sing it with
you, all I had to do was sing the first note and the
audence sang the rest. It was quiet a moment.

Joe Duffy - And how long did it take you to write it ?
Pete St. John, well I was always intrested in that period
of the famine times in Ireland, I thought it was the most
horrific event in the 19th century so I decided I'd
write a song about it.So in travelling down there and
reading some of the old scripts in the university
in Galway in As Gaelige and I thought I'd have a look
at the area and Athenry was the place I choose.
I don't think too many people had heard of Athenry
at the time but now there are bus tours.

Joe Duffy - When was the last time you were in the fields
of Athenry ?. Pete St John - About a year ago they
invited me down to give me the mace and chain.
There's a lovely interpritive centre in the town now
so I went along and met the people and we sang the
song again.

Joe Duffy - Apart from going to Galway University and
looking up the history you had no connection with Athenry,
you just picked it because you saw it on the way back.
Pete St John. Yes I felt the fields do look lovely
and we would call that town a ''Wiper Blade'' because when
we're out gigging with the lads on a rainy night we'd
be going that fast we pass the place with one wipe
of the screen.

Key Of G Major
By[G] a lonely prison wall,I[C] heard a young man[G] call[D]ing,
[G]Michael they are[C] taken you a[D]way,
For you[G] stole trevelyne[C] corn,so the[G] young might see the[D] morn,
Now a prison ship lies waiting in the[G] bay.
[Chorus]
[G]Low[C] lie the[G] fields of athenry,where once we watched the small free birds[D] fly,
Our[G] love was on the[C] wing,we had[G] dreams and songs to[D] sing,
It's so lonely round the fields of Athen[G]ry.