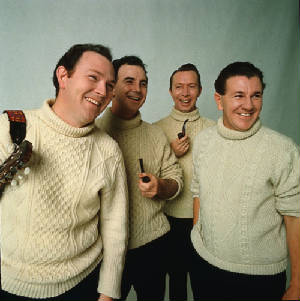 The Clancy brothers from Carrick-on -Sure Co. Tipperary and Tommy Makem from Keady Co. Armagh are credited with the revival of Irish folk music. In 1947 Tom and Paddy left Ireland for Canada and soon after to Cleveland Ohio,It was on their way to California their car broke down and so they stayed in New York.They found work as actors, and in 1953 Paddy and Tom put on a play ''The Wise Have Not Spoken'' which flopped, in desperation they started singing to help pay the rent.
It was around this time that Liam joined them along with Tommy Makem, and so became

The Clancys And Tommy Makem. Tommy played banjo and tin whistle and Liam played guitar. Paddy played harmonica, all the lads could sing.
Things started to happen for the lads and they moved to bigger theatres playing with well known folk singers as Pete Seeger and Jean Ritchie.

Their audiences were getting bigger by the week and by 1956 the lads made their first record''Irish Songs Of The Rebellion'' which gave a new lease of life to some old Irish rebel songs like The Rising Of The Moon', Kelly From Killane' and The Croppy Boy,

A second album followed soon after 'Come Fill Your Glass With Us'' which included Irish drinking songs which were all new songs to the American audience.Tommy Makem introduced the five string banjo to Irish music, Tommy also wrote ''Four Green Fields'' and ''Farewell To Carlingford'' another old Irish song Red Is The Rose which was credited to Tommy for years, but Tommy said later that he learned the song from his mother.

In 1961 the lads appered on The Ed Sullivan Show, which was the bigest T.V. show in America with eighty million people watching, not bad for three Tipperary men and an Armagh man.
News soon spread to Ireland of the success of The Clancys And Tommy Makem thanks to Ciaran MacMathuna who was in New York recording tradition music for his radio show. Ciaran brought back some of the records and played them on his show.

The Clancys And Tommy Makem were now a household name in Ireland.
The lads returned to Ireland and played sell out shows throughout the country.The success continued until 1975 when the band disbanded and in all recorded more than 50 albums.Later Liam and Tommy got togeather to form Makem And Clancy which recorded several more albums. Tom died in 1980 and Paddy died in 1998, Tommy has also passed on in 2007. Liam passed away in 2009, the end of one of Ireland's finest ballad groups.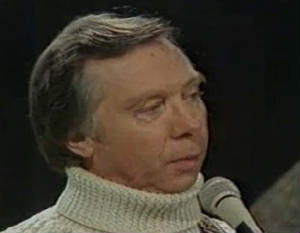 "Liam was for me. never heard a singer as good as him ever. He was just the best ballad singer l e ver heard in my life, still is probably." BOB DYLAN
If Ireland is a country known for ballads and balladeers, then Liam Clancy is one of her best known sons. Singer, musician, storyteller and writer, he is a bard in the truest sense of the word, a poet of music and historian for his times.With The Clancy Brothers and Tommy Makem, he was in the vanguard of the traditional-music renaissance of the 50's and 60's, redefining the shape
and substance of the music not only in Ireland but throughout North America as well. As a solo performer, and in various configurations with his family and Makem, he has been a popular and influential figure in music for over forty years. Which is to say: if you love good music in general and Irish traditional in particular, and if you've listened to the radio or browsed a record store since mid-century, there's a good chance you've been seduced by the voice of Liam Clancy.Born and raised in Carrick-on-Suir, a small town in County Tipperary's southeast, Liam Clancy is the youngest of the Clancy Brothers. His mother's family owned a pub and, for Liam and his eight sibiings, music and singing were a matter-of-fact of daily life. Originally drawn to painting and writing, he eventually opted for a career in theater and, by the time he was twenty, had founded a local drama society and acted at Dublin's legendary Gaiety Theater. Fate, however, intervened in 1955, when American folk-song archivist Diane Hamilton appeared at the Clancy front door with the intent of collecting material. Liam spent the next few months traveling around the country with Hamilton in search of songs and singers. One result of their journeys is the Lark In The Morning, a collection of some of Ireland's finest traditional vocalists, including renowned Ulster ballad singer Sarah Makem and her son Tommy. A second result is that the next year, Liam and Tommy emigrated to the United States, joining older brothers Pat and Tom Clancy, to find their fortune as actors.Liam rowed boats in Central Park, stacked books atHarvard's Widener Library, sold insurance,was a salesman for a day and worked at a tree nursery in Connecticut He also colected songs from Appalachia for Pat's traditional label, and with his brothers and Tommy Makem began preforming music around New York City

spread, and, in 1961, they made their debut on "The Ed Sullivan Show," which, in turn, led to John Hammond, Sr. signing the foursome to Columbia Records. Serious but not somber, romantic but not sentimental, frequently irreverent but never irrelevant, the group was known for its heartfelt delivery and soaring harmonies. At its heart was the magnificently unforgettable voice of young Liam Clancy. Among his fans was Christy Moore, a seminal figure on Ireland's contemporary music scene, who credits Liam with turning his head from rock `n' roll to traditional material when he was 15.
1965 was a milestone year for Liam. He turned thirty. And he recorded Liam Clancy, his first solo album, for Vanguard Records. Recorded at the same sessions as that album's original 14 selections, nine never-before-released tracks appear on the newly remastered Irish Troubadour. The 23 tracks on this fresh compilation run the gamut rebel ballads, drinking songs, topical tunes, laments and love songs. Not all are strictly Irish, and scholars might argue about affixing the word "traditional" to some. Unquestionable, though, is the fact that all of these songs have put down roots, sung by an artist whose own are firmly planted in his Irish heritage.From the contemporary pen of Ewan MacColl comes
"I'm A Freeborn Man,"
written for the BBC series "Radio Ballads." Like
"Dirty Old Town," another of MacColl's poignant ballads representedhere, it speaks to the effects of changing times on people, in this case the traveling people of the Britisl~41ea. Both "Ten and Nine" and "The Work of The Weavers" have their origins in Scotland's weaving trade. But, while the latter is a drinking song from a time when handloom weavers still traveled to markets to sell their goods, the former speaks more directly and darkly to the plight of
workers following the Industrial Revolution. Originally written in Irish Gaelic, most probably as a tune for pipes or fiddle, "The Rocky Road To Dublin" is a true test of the singer's mettle. Liam is joined here by Luke Kelly, who was one of Ireland's most beloved singers. Songs of love and unrequited love, betrayal and familial treachery abound in traditional music. Liam does them superbly. Set to a lovely air, `Blackwater Side" is common throughout Ireland, one theory places its origin in County Wexford, where there really is a River Blackwater.Also here are the popular "Lang A-Growing,"
first printed in 1792 in Johnson's "Scots Musical Museum," and the chilling "Downie Dens Of Yarrow," Child Ballad No. 214.
The Gaelic language is known for its poetry. Liam conveys a sense of that beauty in the hauntingly tragic "Anach Cuain" and delivers the music of the language itself in "Buachaill on Eirne," a courting song involving a rather boastful swain who signs his offer with a final warning: Maids, when you're young, never marry an old man.
Ireland's history is heard in her music, and there's irony indeed in the fact that much of her poetry and music have grown from oppression and wars. Here, examples of that uneasy marriage include "In Bodentown's Churchyard," a lament for Wolfe Tone (the Father of Irish Nationalism and leader of the 1798 Uprising), the 18th Century Irish Gaelic poem "The Convict of Clonmel" and the stirring "The Foggy Dew," a call to arms around the Easter Uprising of 1916, written by the Rev. P. O'Neill and set to the old Irish love song of the same name. Two of the best-known, best-loved songs on this album are also rebel ballads: Dominic Behan's The Patriot Game" and Brendan Behan's "Royal Canal." Rebellious in another way is the satiric "
The Sash My Father Wore
," a delightfully wicked take on the House of Windsor.
Finally, Liam would probably have been ousted from the Clancy clan if he hadn't put a few of those signature paeans to drinking ("All For Me Grog"), courting ("The Nightingale," "
Navvy Boots
," "Home, Boys, Home," "The Beggarman") and all-around good times ("Galway Races") on this album.
In the years since these songs were recorded, Liam Clancy has appeared on stage, had an award-winning series on Canadian television, performed on scores of records, at hundreds of concerts—most recently in the trio Clancy, O'Connell and Clancy with his youngest son Donal and nephew Robbie O'Connell. And, as he always has, he continues to reinvent the old songs and make way for the new.
Marsha Sculatti
, 1998
A fan of Irish traditional music since she first heard The Clancy Brothers and Tommy Makem in the early 60's, Marsha Sculatti has worked with Celts as diverse as the Undertones, Andy Irvine and Kevin Burke and has mastered the phrase `Shut the door" in Irish Gaelic.

An anti war song written by Eric Bogle and sang by Liam.
The above songs are just a sample of what The Clancys recorded. There's a big cross over of materal that was also covered by The Dubliners and others. There's about 50 songs by The Clancy Brothers And Tommy Makem on the site. Have a look in the other sections if you can't find the song here.
The Corries Interview The Clancys And Tommy Makem
Someone said while talking about folk music as history. They said that written history was never anymore than the propaganda of the victor, where as folk songs were the true history of the people that were living through it. You must have found over trhe years your
presentation of it gets over to people who wouldn't normally listen to it.
You bring people in because of the popular presentation of folk music which I don't think is invalad at all. All music is about language, a changing living thing and keeps evolving and adapting to it's new envoirinment and we did that with folk music. One of the factores involved was that we started in America and when we got up to sing pur Irish songs Americand wouldn't understand what we were saying. The same could be said for Scots songs which are not understandable to people outside Scotland.


We just changed them to make them understood by our audience and I think the fact we had been in theatre thought us the lesson that if your aunience doesn't understand you your a dead duck no matter what you do. And so we did change the songs and we make no apologies to anybody.One of the kind of sad things to see in the trends of music today is that where we had a fellow that used to produce and distribut our records in America and who worked with C.B.S. and I met him years later and he said the business has changed so much. When we were recording with Columbia Records they tried to record music, a variety for all the multitues of tastes.

Classical, folk, rock and roll, country and western and all the different musical types.And then we realised they owned the television, the radio stations, the record companies, they owned the means of communcations, so they began to manufacture a taste for their audience.They began to manipulate so that modern music is not as spontanious as it had been from time in memorial but rather a manufactured industary.

The big differences between ''Tin Pan Alley'' as they used to call it, commercial pop music and folk music, and that is that most folk music was written by people that felt very strongly about
something and wanted and wanted to express it, and that's the only motive for their writing a song.Where as in the commerical side, a man wrote a song to make money, which is also valid but somehow
there is a difference. That's why folk musicians don't make any money,