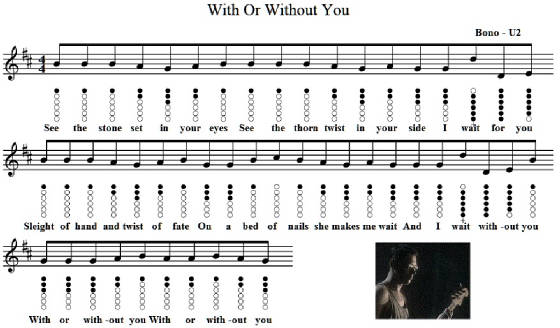 If you listen to U2 playing this you'd think it was very complicated to play. There's a lot of music going on throughout the song but when you strip it down to it's bones to play the lead notes it's as easy as playing twinkle twinkle little star. On a scale of 1 to 10 on how difficult it is to play whistle tunes this one is about 2 with 10 being the most complex. You'll find that with a lot of pop / rock songs.
Below is the easy to follow letter notes in case you don't read music. It's also suitable for the flute , recorder or any lead instrument.
The lower case letters are the high notes past middle B.
B B B A G A B
See the stone set in your eyes
B B B A G A G
See the thorn twist in your side
G d D E
I wait for you

B B B A G A B
Sleight of hand and twist of fate
G G B C B A G A G
On a bed of nails she makes me wait
G G d D E B
And I wait without you
G G G A B
With or without you
A A B A G
With or without you
B B B A G A B
Through the storm we reach the shore
G B B B A G A G
You give it all but I want more
G G d D E B
And I'm waiting for you
G G G A G
With or without you
A A B A G
With or without you
G G d
I can't live
A A B A G
With or without you