After a long absense of from attending The Wolfe Tones concerts
I decided to attend one of their shows on the 30th of December
in Dublin. I didn't quiet know what to expect as I hadn't seen
The Wolfe Tones live since the departure of Derek Warfield from
the group, as most of you already know that Derek left the band
many years ago for what he called ''Artistic Differences'', and
now tours with his own new band.

Tickets cost 20 euro for all seats, some shows that are held in
hotels have a meal included in the price but you can just pay for
the show which is what I done. The doors opened at 9-30 and anybody
that bought tickets that included a meal were already in the venue
so all the front seats were already full when the doors opened.
I thought this was a little unfair to the fans who simply didn't
want to eat and only wanted to see The Wolfe Tones as the only
remaining tables were at the back.

I didn't let this put me off one bit,we took our seats and as usual
headed for the bar where we ordered several drinks each. Ordering
several drinks saves you the hassell of returing to the bar and standing
around waiting to be searved by Part-Time bar staff who are usually
very slow.

The Wolfe Tones came on stage shortly after 10 pm and played a solid
two hours without a break. There wasn't any band on beforehand as a
warm up act. The lads started with the song ''In Belfast'' followed by
Janey Mac I'm Nearly 40 and then played a medely of oldies including
The Merry Ploughboy and Slievenamon. They played a good mix of old
and new songs that included standards such as The Streets Of New York
and Joe McDonnald and from the new album they played Swing A Banker.

During the whole show there's a large video screen showing photos. of
the the person they are singing about that tell the story of the song.
This is an intresting addition to the show. All the music is not live,
there are some backing tracks used in several of the songs which include
strings, bass and drums. I'm a bit of a purest when it comes to using
backing tracks and was disappointed to see The Wolfe Tones using them.
They arn't used in every song, but after a while I forgot about them
and really started to enjoy each song.

The athomphere was what I'd discribe as ''Laid Back'' . The lads put
on a show that you could bring the whole family to see. There were no
drunks to be seen anywhere, just people of all ages enjoying a bunch of
bards telling stories of our troubled past with some comical songs thrown
in by Brian Warfield. Tommy Byrne, Noel Nagle and Brian were in good
form and gave one hundred percent. Brian intriduces most of the songs
and gives a bit of background information on them all.

After the show was over all of The Wolfe Tones came off stage and stayed
around signing autographs, chatting to the fans and getting photographs
taken. Nobody was left out as the lads stayed put until everybody was
catered for. All in all it was the best spent twenty euro in many's the year.
The only gripe I would have being a musician myself would be for
The Wolfe Tones to get another musician to join them and never to use
backing tracks again, perhaps a mandolin player. If the ticket price was
incresed to 22 euro this would cover the cost of the other musician.
If ever you thought about going to hear the lads play, I say go and listen,
you won't be disapointed, they are as fresh and energitic as the first time
I seen them in The Wexford way back in days of yore.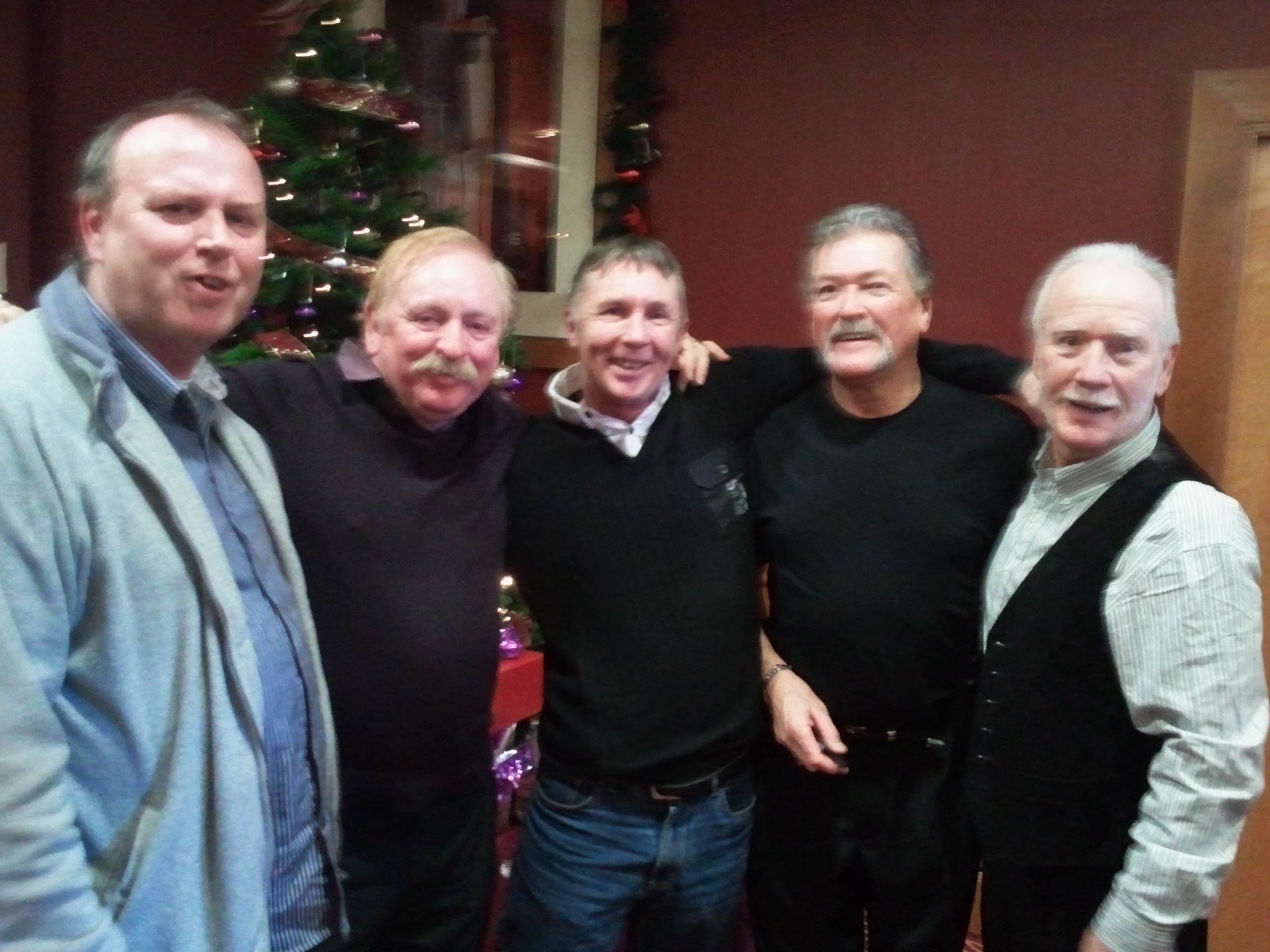 More International Tour Dates That Any Band In The World.
The Wolfe Tones do around 50 international gigs a years, sometimes more. From the beginning [ 1964 ] this band has brought the Irish ballads around the world for those with a love of Irish music. It seems to me that The Wolfe Tones play more gigs than any other group in the world for the longest period of time. They enter their 50th year on January 2013. From Australia to Canada, from Kilarney to The Barrowlands of Glasgow the 'tones have play most countries of the world where the Irish have settled.
The Rolling Stones have been together 2 years before the 'tones but have not had such an extensive touring sehedule. There are very few bands that have made it to 50 years together and there are none that I can think of that have not added or replaced a member in that time. Sure, Derek left the group but but he wasn't replaced and the 'tones continued. The Dubliners were together since 1962 and also toured extensively in the early days, but they didn't play as many gigs as The Wolfe Tones and their line up changed several times over the years. So what keeps a band like The Wolfe Tones together for all those years ?
My own opinion is having a great songwriter such as Brian Warfield in the band along with a marvelous singer in Tommy Byrne and a great lead musician such as Noel Nagle holding the melody together. You also must be able to get along together. When The Wolfe Tones call it a day in 2014 after their 50 years together i's going to be difficult for any other group to match what they have achieved, be they a pop / rock or ballad group. The group have never given in to pressure to curtail their the rebel songs. In fact it seemed to inspire Brian to write even more of the rebel songs just to annoy the begrudgers.
The Beginning. In the 50's and 60's Irish music was a part of the popular song culture of the time and the
Wolfe Tones
were exposed to it as young boys on the radio, at school, in Theatre's and by family members. "There was always music in our house", said Brian, "both my father and Mother played piano and we had a wind up record player that was constantly in use scratching out both classical and Irish records". "Irish song and dance was seen and heard at every family occasion it was an important form of entertainment in those pre Television days". "My father formed the Eire Og girls pipe and drum band", said Noel, [Tin Whistle Player With
The Wolfe Tones
] "and of course every one had their party piece at the regular family get together, in fact they never needed an occasion to have drinks and a sing song it happened every weekend after the pub closed".
Brian Warfield and friend Noel Nagle were the founding pillars of
the Wolfe Tones
and first took an interest in playing and singing Irish folk music as young teenagers back in 1961. They were introduced to recordings by a boyfriend of Noels sister Marie, Tony, who had a great collection of records by such groups as the Clancy Brothers, various Ceili bands and solo players, Pete Seegar, The Weavers, and they enjoyed many a winters night listening to these records. Tony played the accordion and sang some very fine songs. We both went to whistle lessons in Church Street where we were taught by Paddy Bawn 0' Brinn and learned many great tunes from him. In time Brian, encouraged his brother Derek, who took up the mandolin which their father Harry played in a band when in his teens. They traveled to all the Fleadhs to listen and learn and indeed enjoyed the experience as City boys discovering the countryside. From these humble beginnings was to grow one of the best and most unique folk bands ever to grace the stages of the world. Here are some of the milestones of their recordings and development.
August 1963 they form a band with many of their friends they play at concerts and pubs. Oct 1963 Noel and Brian leave for England and become the resident band at 4 different folk and one was run by Paul Simon, they got front page of the Essex Herald. They called themselves Wolfe Tones after the great Irish hero. Jan 1964 Derek and Philip have a group in Ireland known as circle group, they came to London and rejoin the group.

Easter 64 they go home and they meet Tommy Byrne in Mc Dermot's Pub, Elfin, Co Roscommon. Derek goes back to England. Noel and Brian join forces with Liam Courtney and are known as the WolfeTone Group. They have many guest performances on Radio and some Television.

August 64 Derek come back and joins the Wolfe Tones. They get regular spots on Ballad Session a poplar ballad TV show as a foursome. They meet their first manager Kaare Jonson a Norwegian who has great hopes for the band.
Sept 64 They are winners at the Rose ofTralee Ballad group and Pub Competition Oct 64 They are watched by Scout from Fontana records Leslie Mann.

Nov 1964 Tommy Byrne joins the group and replaces Liam Courtney. Tommy had kept in touch with the others since their first meeting and had played with them on occasions
Nov 64 contract signed with Fontana

Jan 1965 They record their first album at Phillips Studios, Marble Arch, London. Where groups like Wayne Fontana, Pretty Things and Dave Dee Dozy Becky, Mitch and Titch have all recorded.

March 1965 they get many TV and Radio gigs as they become favourites with RTE and the Irish audience.
June 1965 they move to the four courts hotel Dublin on Friday's Saturday's and Sunday nighs, it becomes the most sucessiful show in town and everybody wants to play at it.

1965 They open the Old Shelling Hotel on Mondays for Bill Fuller

1966 Their second release on Fontana "Up The Rebels" was recorded at Eamonn Andrews Studio, Henry Street, Dublin.

1966 The Wolfe Tones open The Embankment in Tallaght on Thursdays for Mick McCarthy August 1966 Sees their first tour of America

1967 They meet their new manager Oliver Barry and their partnership lasted until Oliver's departure for his venture with Century Radio in 1988.
1967 Their radio and television career blossoms and blooms as they have many hit records and chart successes.
1967 The "Rights of Man" released and becomes huge hit, and they have continued success on radio and television
Dec 1967 "Teddy Bears Head" is released and there are regular tours of UK and US.

1968 new record deal with Dolphin Records. "The Rifles of the IRA" is released and recorded at Eamonn Andrews Studios. "Uncle Nobby's Steamboat" heralded as a landmark of Irish Music arrangement that was to be copied by many groups that came later like Planxty.

1969 The Wolfe Tones win the rights to their songs from their record company after 10 years

Dec 1971 "Let The People Sing" becomes a huge seller and publishes photo's smuggled out of Long Kesh on the cover.

1972 continued success on TV a handful of songs are released


1973 Their first number one "The Helicopter Song" about an escape from Mountjoy Jail Dublin

1974 Disappointment with the deal made by Dolphin for their old recordings, the Wolfe Tones form their own record company Triskel and their first release is "Across the Broad Atlantic". "Irish to the Core" followed and in
1975 "Till Ireland a Nation" then 1976 "Belt of the Celts"

1978 "Alive Alive Oh" is recorded live at The National in London.
1979 "As Gaeilge" their only Irish speaking album is released.

1981 Sees their second No. 1 "Streets of New York" followed by the LP "Spirit of a Nation".

1983 "The Sense of Freedom". The Late Late Show which tried to demonize the Tones for singing "Joe Mc Donnell" and supporting the people of the 6 counties.

1985 The WolfeTones LP "Profile" was released and the cover was soon to become their logo.

1987 "Sing out for Ireland".

1988 The "Greatest Hits" was released on Harmac. Oliver Barry resigns as manager to devote his time to Century Radio.
1989 The "25TH. Anniversary" is released.

1990 From this point on they did not record owing to a dispute over US release of their product with Shanachie Records. They have continued their recording career since Derek left the group and have had many hit CD's like "Never Beat the Irish" in
2000 "Rebels and Heroes" 2001 WolfeTones Live
2002 "The WolfeTones 40th Live" on CD and DVD 2003. "Celtic Symphony" CD and DVD


This video is an interview with Derek Warfield who was a founder member of The Wolfe Tones. Here Derek explains the reason why The Wolfe Tones broke up.
2004. "The Troubles"
2005.2006 "1916 Remembered" and The WolfeTones Platinum Collection on EMI. This anthology is a selection of tracks taken from their many recordings old and new. Up Close with the WolfeTones
Noel Brian and Tommy have gone from strength to strength since Derek left in Dec 2000 and are still one of the biggest sellers of CD's and the most popular Irish acts at their time. They continue to make and break records and long may it continue.

So much has been said about the "Tones", as they are affectionately called,a fresh look at this group which has now become an Irish institution and intrinsic part of Ireland's rich ballad music history. They are now a grand 44 years on the road. Within this timeframe, they have achieved almost every award and accolade which an Irish folk ballad group can hope to aspire to. As a band they function on multi-levels; creative, brilliant, humorous, mind-provoking, controversial, heroic, traditional and contemporary, but at all times they remain entertaining and guarantee to bring a smile to your face.
They are regarded by many as the last in a great line of bards and folk story tellers who have enriched Ireland for the past thousand years.
Their mission has been to keep the tradition of the Irish ballad alive and flourishing. They have been similar to the old bards of old in their telling of the story and history of Ireland to the Irish and its' Diaspora. Their love of performing is evident throughout the past five decades as they carried their music to the four corners of the world. When they couldn't tour or visit, their CD'S and DVD's spread the music and the heritage throughout the jukeboxes and iPods of the world. Their music has reached the remotest regions, from the Artic to the Antarctic, from the lowlands of Holland to the highlands of the Himalayas. Irish group on their many missions and sojourns of discovery.

Wolfe Tones Review By Martin Dardis
I Was aware of The Wolfe Tones music from an early age,
I'd say it was around 1977 I bought my first tape, it was
The Rifles Of The I.R.A and from that moment on I was hooked on ballads and in particular The Wolfe Tones.
This was the 1970's and money was tight, if you had three or four tapes or L.Ps you were made.
I remember I would listen to the same songs over and over and know every word of every song of by heart.
Eventually I collected all The Wolfe Tones to date and would wait in anticipation for new releases.
I was not content with having all the tapes that I would buy any singles the record shop had in stock just to listen to the B side of the single.
It was around 1978/79 that I first went to see The Wolfe Tones preform, the gig was in The Wexford Inn Dublin, the lads played there every Tuesday nights for a couple of years from what I remember.
It was one of the top spots in Dublin at the time for ballad groups, a great venue with lots of atmosphere, I'd say it held around 300 and that figure doesn't include the people standing on the tables who were mad drunk with excitement and drink.
The Wolfe Tones surly know how to get the crowd going, they would start of with a few fast rebel songs, then slow it down with a couple of slow ballads like Slievenamon.
I would be thinking, these fellows must have been practising this stuff for weeks, but they were already veterans by this stage.
The 'tones were as good live as recorded, the thing that has always struck me about the band is the harmonies.
The four of them would come in on the chorus, Derek and Noel would stop playing just for the chorus and then go back to the whistle and mandolin.
The harmonies with The Wolfe Tones was not there with most of the other ballad groups, and there were plenty around during the 60s and 70s, the exception would by The Johnstons and The Ludlows. But it wasn't just their style of singing that attracted me to The Wolfe Tones.
Listening to folk songs and ballads has thought me a great deal about the history of Ireland, more than the education system ever did. Listening to ballads like Kelly Of Killane or Bold Robert Emmett will give an insight into Irish life at that period in history. Of all The Wolfe Tones songs I've listened to I have found the facts portrayed in the lyrics to accurately describe events of the time they were written about.
Brian Warfield, the songwriter from The Wolfe Tones has written about most aspects of Irish life, including it's social and political history. From the powerful ballads of Joe McDonnell and Celtic Symphony, to humorous songs like Quare Things In Dublin and Uncle Nobby's Steamboat.
In the tradition of folk songwriting he has very few rivals, the closest would by Shane MacGowan.
Without such a fine songwriter I doubt if the group would still be around today, Brian is constantly writing new songs and stories. The show is as fresh today as it was 30 years ago. Derek Warfield left the group 2001 to go solo, he continues o tour Ireland and America mostly. Derek also brought the group to No1 in the Irish charts with Admiral William Brown

It's now over 30 years ago since I first bought that Wolf Tones tape and I'm still listening to them, the tapes have long gone but the music lives on.
I now not only listen, but play their songs on guitar and do my bit to promote Irish music whenever I can. This is just my own memories from watching the lads play, if you want write your own review and want it published here then send it on to me. also if you have any sheet music notes for banjo/mandolin or tin whistle notes, please send them to me.
2008 is the 45Th anniversary of the coming together of the Wolfe Tones, very few bands in the history of music have stayed together so long and with the same line up, except for the departure of Derek the line up has been the same since 1963 when they formed the band at a fleadh cheol in Elphin County Roscommon. Some music journalist only see the band as 'Rebel Rousing' balladeers but if that was the case they wouldn't have lasted for this long.
Sure the rebel songs are an important part of Irish folk music..
Take their first album for example, you have songs like Dicey Reilly, The Zoological Gardens, Down In The Mines and Glenswilly, from The Wolfe Tones first album to their latest they have recorded a mixture of Irish folk and an equal amount of the rebel songs.
I started listening to an old song by the 'tones that someone had posted on Youtube, ''Farewell To Dublin'' , I had almost forgotten about this wonderful song by Brian with Tommy on vocals. It's truly one of the all time greatest Dublin songs. Brian should get a lifetime achievement award just for writing this song, but that I'll hardly happen now will it ? in fact The Wolfe Tones should all get lifetime achievement award for the hugh contribution they have made to the preservation of Irish folk music.
Ticket prices for all the shows have been kept low and represent great value, normally around £20 or €25, compared to other acts on the folk circuit who charge up to €50, when you decide to go and see The Wolfe Tones remember you can book your tickets online at the offical site.
Here's a piece of writing from Brian Warfield about Ruth Dudley Edwards who says The Wolfe Tones should be thrown out of Ireland
Well I cant believe it but she is at it again that is Ruth Dudley Edwards still trying to destroy and bring down the Tones. In an article published in the Sunday Independent she mentioned The Wolfe Tones as some of the people she would like to get rid and banish from Ireland, mind you we were not alone, Sinn Fein and Eamonn Dunphy were among her unlikely chosen few. Now it's not the first time that England or their agents tried to rid Ireland of Irish people, their bards or those who openly opposed their rule here.
First let me explain something about this horrific woman. My first encounter with her was in 1979 when we were playing in the National in Kilburn London. We were riding high in the Irish top ten with our song tribute to Padraic Pearse reaching number one in the Irish charts. Gerry Smithers was the manager of the venue and came to me after the show and told me that there was some oul-wan wanted to see me. She has three names can't remember them he said will I let her in. Well OK let her in I said, I didn't know who she was at this stage. I received her in the green room reserved for artistes and V.I.P.'s She was ushered in by Gerry and she immediately introduced herself to me. I bought her a drink and she then proceeded to attack me verbally. You should be ashamed of yourself she said your Brian Warfield that wrote the song Padraic Pearse, its disgraceful there were over 2000 young people all jumping around and riled up to your song Padraic Pearse clapping and screaming ready to join the IRA, take up arms and use violence to obtain a united Ireland. Well I got an opportunity to speak and reply when there was a gap between her ranting and raving as she gulfed her beverage I interrupted and retorted to her ravings. Ruth, said I, I can't believe what your saying, these young Irish people are proud of their Hero and are celebrating his memory and why not, they are enjoying their Irish ballads and heritage as they are entitled to do, just as much as any other race of people are. Come to think of it, I believe it's you should be ashamed not me, your book on Padraic Pearse was an attempt at character assasination. If I was him I would come back and haunt you for the way you tried to undermine his good name and character, his hero status and the esteem in which he is held among the Irish people around the world. We went on arguing for awhile on the issue, she knew she had a fight on her hands. I knew my history and had read her book on Padraic so she left with her tail between her legs.
I came to the conclusion that she believes that the revisionists like her have ownership of Ireland's history and historic figures and that they can play with it how they will and rubbish those who disagree. I believed it was wonderful to see so many young people joyously celebrating the anniversary of one of Ireland's great leaders and enjoying the music of Irelands greatest ballad groups. After all it was fantastic that a song in tribute to a great hero was bought in such numbers and with such popularity that it reached no1 in the pop charts.
Now about Ruth Dudley Edwards. Her own brother said she was a looper, a mad woman and that her credentials were dubious. She has very little understanding of Ireland or the Irish, she is intolerant of Irish nationalism and is arrogant in attitude so now she wants to banish The Wolfe Tones from Ireland, well is this a good one. All I can say is that she emanates many historic figures of the past who harboured her ideas from Elizabeth 1 who laid waste to Munster and drove many good Irish people abroad. Philip and Mary who massacred the Chieftains of Laois and Offaly and disposed the people of those counties. James 1 who dispossessed Ulster and confiscated their lands driving them from Ireland. Charles, father and son, cheated the Irish when they offered support to them. Cromwell who killed murdered, plundered confiscated lands and drove many into slavery in the southern States of America or to the West Indies. William dispossessed the Irish from their lands broke the treaty of Limerick and banished the soldiers of Erin to the armies of France and Spain. Queen Ann imposed the Penal Laws that drove our Priests and School teachers abroad, the former to the Continent and the latter to the USA. The policies of the Georges once again drove the good people of Ireland abroad. In 1798, the good people of Ireland united to rid the country from the tyrannical Government. It ended in defeat and many were driven from Ireland either as convicts or people escaping the despotism of English rule in Ireland, The Famine policies of the Victorian regime murdered millions by starvation and further millions into exile. The history speaks for itself, I could go on and on until the cows come home with further examples but I think that's enough to demonstrate what I mean. Isn't it amazing the hang over of imperialism remains and has a strong voice and these ideas still exist in Ireland today in the form of people like Ruth Dudley Edwards. Maybe just like Cromwell, she would like to banish the Tones to hell or to where ever. However she is like all these characters who all had one thing in common, they all outlawed the Bards and balladeers of Ireland and tried to drive out the Irish who opposed them from Ireland
Way way back in October, 1963, Noel and myself set sail on the mailboat, Princess Maud, on a voyage to the unknown. I had with me a cardboard suitcase filled with my few possessions and my Kestler Guitar, my pride and joy at the time. We were joining in the great wave of emigration leaving Ireland in the sixties. There was a lot of drinking on board as the Irish emigrant drowned his sorrows leaving home, his family and friends, we sang songs in the bar on the way until only the very drunk people were left and they were a bit of a handful. So we retired to the outer deck and tried for a bit of rest. We were going to my Aunts house in Harold Hill, Romford, Essex, to find work and continue our musical voyage. We had made a start in Ireland and were making a little name for ourselves. We were booked as guests on a major Canadian television show with a country type singer called George Murray, we played some clubs in Dublin and we felt confident that experience in England would do no harm. That was fifty years ago. We went on to play many of the major folk Clubs around London and became a very popular act there. I did not give up the day job but worked many jobs around London. For instance, I made chewing gum with ABC Chewing Gum Company, I broke Eggs and pasteurized them for the catering trade, for a while I worked as an upholsterer in a furniture factory, you name it I done it. But my love and passion was to entertain and the folk music and songs of Ireland, from then we went from strength to strength.

To mark this occasion, the beginning of the long winding 50 years on the road, we are going to have several special events across the year. Commencing on the 30th of October we will begin a tour of England taking in all the wonderful clubs, pubs, towns, cities, halls, theatres and places that we visited over the years. We look forward to meeting the people who gave us great support since our humble beginnings as emigrant folk singers in 1964. We once again will travel this road and play every major city across England, Scotland and Wales, from London to Inverness and everywhere between. It began in 64/65 with our first gigs around London. The second town in England to recognise the Tones was Liverpool in 65, this gig was run by college students, Malcolm and Stewart, two great guys who ran our shows there, we have never forgotten them. Then we played the Albert Hall, the National in Kilburn, the great dance venues and ballrooms throughout the country. In every town, in every city, there was an Irish Club or Ballroom, we played them all some time or other. We toured the theatres and concert halls. We did them all big and small.

For many years the police in Scotland prevented us from playing there with all kinds of objections and excuses, promoters were intimidated and threatened, venues were warned if they had the group they would lose their license, every dirty trick that could be used to stop The Wolfe Tones from touring Scotland. Eventually we broke through the barrier of hateful, anti Irish bigotry and played the Apollo in Glasgow. After so many battles with the Police authorities we eventually convinced them that The Wolfe Tones were an excepted international act who had played all the great concert venues in the world and were entitled to play a concert to their followers in Glasgow. This was one of the most memorable concerts of my life, a night I will never forget, the atmosphere, the passion, as thousands of enthusiastic fans sang the Wolfe Tones songs with us. It was so loud and sung with such great pride and passion that I thought the roof would lift off at one stage. The anti Irish lobby in Glasgow became very vocal in their objections to our group as our popularity increase,d they even went to great lengths to intimidate the Celtic board by tainting us with sectarian slurs until they eventually bowed to the bigots and stopped ads for the Tones in the Celic View. I met with the Police on occasions to answer objections thrown at them regarding the group, they were wild, unfounded and callous but many of our shows were cancelled because of it. I remember the Caird Hall in Edinburgh, cancelled because the police said there were too many people to control and they thought there might be trouble ...... might be trouble. There never was trouble at a Wolfe Tones concert. They had no foundation for this objection as we never had trouble at any of our shows, in fact, our audiences in Scotland were the best behaved, most enthusiastic, fun loving people that could be found anywhere in the world. We celebrated our 25th Anniversary at the Barrowlands in Glasgow and it was a wonderful, unforgettable occasion and now we are proud to celebrate our 50th Anniversary at the Barrowlands on November 23rd, with the greatest audience in the world and I'm sure it will be the same if not better. We're really looking forward to it.

We are excited to visit the great towns and cities, the communities that are the Irish diaspora in England, Scotland and Wales. The Wolfe Tones never forgot the Irish in Britain and the Irish in Britain never forgot The Wolfe Tones, in fact they always loved The Wolfe Tones our music and songs. The Tones mean as much if not more to the Irish in England, Wales or Scotland as they do in Ireland or anywhere else. Our music re-enforces their identity, it's Ireland's music, history and story. I wrote songs like "My Heart is in Ireland", inspired by second generation Irish in Birmingham. "Dreams of Home" was inspired by a returned emigrant who finds everything changed in his town, "The Guildford Four" in support of the Irish caught up in the whirlwind of hysteria against the Irish after the bombings. It was a grave travesty of justice as innocent people were rounded up just because they were Irish. We sang at a concert with Ken Livingston in Hackney Town Hall to highlight the plight of the Maguires, the Guildford four, the Birmingham six, all of whom were acquitted years later. We brought Irish entertainment, songs, stories and music to the great Irish centres and communities all around the country and still do right up to the present time. So come along and experience what this long journey was all about, all the dates are listed on our website so let's celebrate 50 Years of music with the mighty Wolfe Tones!

In January we are off to Australia as part for our 50th Anniversary World Tour, 5 dates in all the major cities. It's two years since we played Australia and I know by the ticket sales and excitement that we will have another sell out tour so get your tickets early. Tickets selling fast so get them now. More about this in the next newsletter.

We will be off to the USA for our celebratory tour commencing mid February and it will continue until March 17th, St. Patricks Day.

Back in Easter, 1964, we met with Tommy Byrne at a fleadh in Elphin, County Roscommon. We became very good friends, he later gave up the day job in Guinness and joined the group for better or for worse, it can't be bad, he's still with us today. To mark this occasion we are having a major event called 'Wolfe Tones Fest', a weekend at the City West Hotel, County Dublin. There will be three concerts across the three days of the festival, on Saturday we will have a special concert with Orchestra, one not to be missed. Then on Sunday we will have a request night with the Wolfe Tones. If you want to nominate a song for this concert you must be in attendance on the night and have submitted your request at least a month in advance and give a reason why you would like to hear the particular song. The third night will be '1916 Remembered', history, story and songs of the period. There will be an exhibition of awards, trophies, citations and memorabilia on display that was collected by the group over the years. This promises to be a uniquely entertaining weekend full of surprises and 'Wolfetonery' so for all who have followed the Tones over the 50 years it is a must. Tickets have just gone on sale and are available from City West Hotel or from their website. When booking via City West Hotel, full payment is made at the time of booking.
Warfield On The War Path ...

I wrote the song, "Let The People Sing" back in the sixties and I'd no idea that it was to become such an anthem over time. The Irish in Scotland have suffered a great deal of discrimination, resentment, anti Irish, anti Catholic feelings from the indigenous Protestant population in Scotland. They were never accepted as a community and suffered discrimination in housing, employment and every walk of life. They rallied around Glasgow Celtic, a football club formed by the Irish back in 1888 for charitable purposes. I've dealt with the story of Celtic in a former newsletter. They felt they were on equal terms with local communities on the football field when 11 Celtic players would take on 11 from the opposing community. Since then the Celtic supporters have delighted in the platform provided to them on every match day, giving them an opportunity to display their Irish heritage, by singing Irish songs on the terraces. These were moments that gave them great pride as they sang the Irish song telling to all the story of their historic Irish heritage. It was one of the few occasions that they could express themselves without looking over their shoulders.

This was very much resented by the authorities in Scotland who tried on every occasion to brand the story of Ireland as sectarian. Of course this is totally unfounded, Irish song has many facets to it, it was never sectarian. Wolfe Tone, Robert Emmet, Henry Joy, all Protestants, the story of Ireland is in the song lore of Ireland so nobody can make accusations of sectarianism against its content.

This article was sent to me by a friend of mine, it was written by Angela Haggerty, a journalist, broadcaster and editor based in the west of Scotland. I think you might find it of interest.

Her most recent work includes editing the best selling book Downfall: How Rangers FC Self-Destructed, charting the demise of one of Scotland's biggest football clubs. The book was written by Phil Mac Giolla Bhain, a journalist credited with breaking many of the major stories of the club's impending financial crisis. She currently works for a magazine in the west of Scotland. This little piece I share with you because it tells a wonderful story of the feelings of the Irish in Scotland.
The littlest incidents and moments in life can tell a much greater story and I was lucky enough to encounter one this week.
During a movie night at a friend's house we were all suddenly distracted by a strange drawl outside. TV muted and a scramble to the window ensued to witness a very drunk, middle aged man staggering around outside, singing as loud as he could strain his voice, with a growling emphasis on his favourite lines. The song?
"Hulllo, huulllo, we aaaarrrra Billy Boys, hulllo, hulllo…"
He stopped, staggered, grunted.
"We're up to our knees in Fenian blood surrender or yu'll DIE…"
It was quite a vision. If we could have stopped laughing for long enough the sight of a middle aged man dreaming in a drunken haze of wading in Irish blood might have been disconcerting – but then the best bit happened.
He stopped in his tracks and turned around to pinpoint where another noise was emerging from. He looked confused, we all listened. In the not-too-far-distance we could hear the sounds of what must have been three or four fairly young kids singing right back at him.
"Let the people sing, their stories and their songs, the music of their native lands…"
Defeated, he threw his hands up in the air and grunted in their direction, to a chorus of giggles, before he slinked away.

What a moment. The old, outdated and outgoing generation of racist stereotypes and the brand new generation of children who have begun life with a sense of their rights. The two songs could not have been more emblematic. One venerated a fascist street thug, Billy Fullerton, and the other is an anthem of hope. Banned by UEFA in 2006, the Billy Boys, like Fullerton himself, is history.
The treatment of Irish immigrants and of their descendants in Scotland is an issue that I've been close to for many years. I grew up with a father who was born in Scotland but never identified with a Scottish nationality. He is Irish; he comes from Irish family, he spent his childhood summers back where he considers home and the country he was born in was one he never felt he had a place in.
When he hears the Scottish national anthem, he feels nothing. When the Irish national anthem plays, it's clear where his heart is. I grew up in a family with a great fondness for Ireland. What's more, I grew up with parents who could relay stories of the discrimination they faced throughout their lives in Glasgow because of their Irish names.
My mother, a Docherty who grew up in various parts of Glasgow's East End in the 1940s and 1950s, was a fiery woman. We used to love hearing the stories of how she handled anyone that asked her what school she came from during a job interview.
She left one Englishman stunned during an interview for a job in the civil service when he asked the dreaded question. He got a piece of her mind and my mother had a famous way with words. As it turned out, his question was entirely genuine and she got the job. She had a great sense of justice and in those days it wasn't easy to stand your ground.
It's easier for me to stand mine. I was 15 when Glasgow achieved occupational parity in 2001, the milestone which meant those of Irish descent were finally on an equal footing when it comes to things like employment and education. It took Glasgow a full 100 years longer than New York to get there.
When I became of working age I was going out into a world where my name should be under little consideration for an employer – it should be, but given that my name is so closely associated with standing up to the klan in the world of Scottish journalism, it sadly wouldn't surprise me if my name sounded like too much of a threat to sales around these parts.
But I have a job, a very good job at a business magazine, and I also work as a book editor. It's through the latter that I've been privileged to work on a book about a subject that has dominated much of my life.
Minority Reporter: Modern Scotland's Bad Attitude Towards Her Own Irish by Phil Mac Giolla Bháin is an important document charting the discrimination faced by Irish immigrants to Scotland and their descendants.
It blows away the myth of sectarianism and illustrates how ethnicity is absolutely central to the cultural problems which still exist in the west of Scotland. While structural discrimination no longer exists for the Irish, attitudinal discrimination, as Professor Tom Devine styles it, is still present.
The book looks extensively at the stand out examples of this discrimination in recent years, namely the Famine Song and the disgraceful treatment of Celtic manager Neil Lennon, who has endured physical attacks and serious threats on his life throughout his time in Scotland. The Irishman has shown incredible strength and Scotland is in his debt.
As a result of my work on Phil Mac Giolla Bháin's previous book, Downfall: How Rangers FC Self Destructed, I've experienced that very discrimination almost relentlessly for the past year.
The downfall of Rangers was a wonderful coincidence. Just over a decade after Glasgow achieved occupational parity, one of the spiritual homes of anti-Irish racism in Scotland collapsed in total humiliation.
The fans who displayed those racist tendencies – many now loyal followers of Sevco and whichever comes next – continue to belt out their old favourites. They recount their fantasies about Fenian blood through the Billy Boys and tell the plastic paddies to go home to Ireland through the Famine Song without a hint of irony.
But that subculture, the 'klan' as Phil correctly terms it in a nod to their brothers in racism, no longer feels like a threat. While Sir David Murray strung them along and had them fooled about their entitlement they failed to notice the confidence emerging among the 'taigs' – still a favourite term on their message boards – and the cracks that were about to bring their culture tumbling down.
I'm glad my Dad lived to see it and finally feel a sense of justice, and I'm humbled that he saw the day that one of his offspring edited a solid record of the discrimination he and others suffered. While Downfall and the real story behind the Rangers collapse was important, this book really grabs the roots of what Rangers represented for so many in Scottish society and rips them up from below the surface for all to see, and unashamedly so.
And like Downfall, it has a happy ending. The Irish in Scotland no longer sit at the back of the bus. Those days are over, they are gone, and no matter how much the remnants of the klan strive to claw back the old days, their efforts will be futile.
They are on the wrong side of history, equality terrifies them.
Let The People Sing.

Well, well, a journalist called me some weeks ago and asked about the Wolfe Tones and why they did not get a fair deal on Radio. He wrote the article but unfortunately it was not published in the paper for one reason or another. He called the RTE press office investigating the fact and he received the following response:
THE WOLFE TONES - AN ICONIC IRISH GROUP SAY RTE
"A Truly iconic Irish act".

It may seem incredible, but that was how RTE recently described the Wolfe Tones.
The comment came after a journalist rang the state broadcaster to ask if they played records by the Wolfe Tones.
"We do," RTE told the caller. The spokesman added: "RTE support all Irish music including Wolfe Tones. There is no ban on playing their records on any of our stations."
This could be news to tens of thousands of fans of the Wolfe Tones in Ireland and worldwide who listen to RTE online.
They will know that the group have been banished from the airwaves of RTE for more than a decade.
Which may have been the reason why RTE were unable to confirm the last airing of a Wolfe Tones record by any RTE presenter.
Brian Warfield of The Wolfe Tones believes their blackballing by RTE is down to the political content of their material.
"It all goes back to Conor Cruise O'Brien who as Minister of Post & Telegraphs and his amendment to Section 31 which banned republicans access to radio or TV channels. That was lifted but RTE's ban on The Wolfe Tones remains in place, "said Brian.
Yet recent Wolfe Tones album have contained many non political songs, which could have garnered airplay, with this in mind the group last year hired a PR company to promote their new album out in RTE.
"The PR was told point blank "We don't play the Wolfe Tones. In fact we get more play from the BBC," added,"Brian.
But celebrating half a century next year, the trad outfit hope the peace process which has changed this island will spread to the DJ's and producers of RTE.
After all the station has given plenty of play to play the music of Wolfe Tone fans, for instance Oasis whose brothers Noel and Liam Gallagher regularly attended Wolfe Tones shows growing up in Manchester.
New songs such as 'Swing A Banker' perfectly capture the mood of Ireland in 2013.
But if RTE say they play the Wolfe Tones, let's hear them.
Fans are invited to write to RTE and request their music.
A handwritten letter to a DJ or presenter works better than an email.
Maybe follow it up then with an email.
Why not ask the presenter is he/she aware of the Wolfe Tones 50th Anniversary?
Ask the presenter to ask his or her listeners on-air if they have their own memories of the Wolfe Tones?
This could trigger more calls and emails from Wolfe Tones fans and show RTE the level of support for who they call "a truly iconic group".
Please let us know if you get a response....
Brian Warfield.